Donation Drop Offs: Donations are accepted at the ReStore during business hours. You can call the ReStore, 812-232-9200, before dropping your item off if you have any questions about whether it will be accepted as a donation.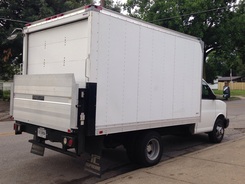 Donation Pick-Ups:
The ReStore also provides an expanded and free pick-up service thanks to a grant from the Wabash Valley Community Foundation which allowed us to purchase a newer box truck! Pick-Ups, which are done on Wednesdays and Fridays, must be pre-arranged. If you're interested in scheduling a pick-up, call the ReStore at 812-232-9200. We are unable to haul away trash or sort items.
Merchandise we accept as donations and offer for sale:
New and usable building material such as lumber, insulation, hardwood and tile flooring, windows, doors, paint, etc.
New and usable kitchen and bathroom cabinets and faucets
New and used appliances that are in good working order
New and gently used indoor and outdoor furniture
New items which are surplus or discontinued items from local hardware stores, building contractors, landscape companies
Lighting
Movies, DVDs, Books
Kitchen items such as cups, plates, bowls, etc.
Many other items donated by businesses and individuals





---
Merchandise we typically do not accept:
bedding (unless in good condition and unstained)
mattresses and box springs
clothing
broken items
items needing repair- we don't have the facilities to make even minor repairs
Footnote on Donations: While we totally agree that "one man's trash is another man's treasure", we sometimes don't have the space to hold onto that treasure until the right treasure hunger comes along. New building materials, good reclaimed building materials, appliances in good working order, cabinets in good condition, and furniture in good condition is in high demand and sell quickly. Therefore, we try very hard to find room for them. However, old windows and doors, old toilets, bathtubs and showers take up a lot of space. We may have to turn such donations down on occasion.